Mobileye
Integrated Collision Avoidance System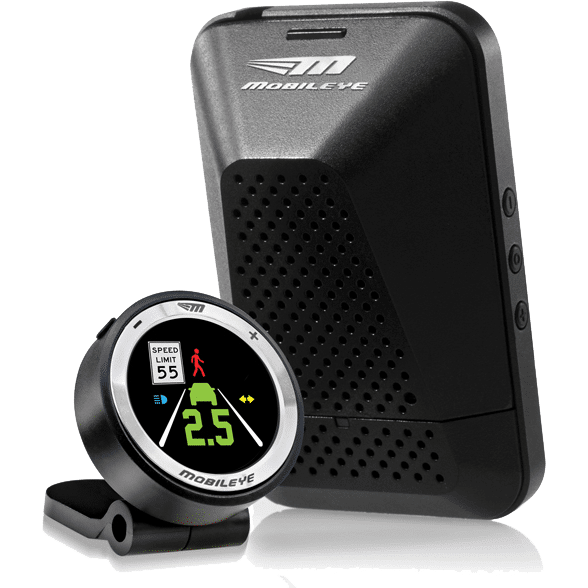 Protect Drivers with a Digital Eye
Mobileye's vision sensor technology continuously scans the road ahead, employing sophisticated algorithms to analyze the driving environment and identify probable collision dangers. The all-in-one system scans for risks of forward collision, lane departure, headway and following time, excessive speed as well as pedestrian hazards.
Prevent Collisions
Mobileye's collision avoidance system warns drivers of potential hazards in real time with audio and/or visual warnings.
Always Connected
Receive critical real-time alerts on your smartphone, in addition to the EyeWatch that is included with the system.
Night Vision And Weather Resistance
Works in all weather conditions and has night vision capabilities for accident avoidance in any situation.
"From drivers initially being hesitant to drive with Mobileye in their trucks, we now have drivers insisting on having it installed as they see the benefits and appreciate having it as an added safety tool in their trucks"
Jimmy Pardo
P&B Transport
Real-Time Alerts
Reduce collisions with real-time alerts. Receive warnings for lane departures, forward collisions, and pedestrian collisions. Detect when a vehicle is about to cross a lane boundary within the next few tenths of a second. Avoid collision as the provides the driver with a warning in critical situations where a collision is imminent.
Book a Demo
Integration with Geotab
Easily integrate with MyGeotab to organize vehicle data into reports to better evaluate safety and risk. Vehicle data is transmitted to the Geotab database to generate custom reports to improve fleet safety and efficiency.
Book a Demo
Technical Features
5 Driver Assistance Applications
Pedestrian and cyclist collision warning, forward collision warning both in highway and urban setting, lane departure warning. headway monitoring and warning, and speed limit indication.
Smartphone Connectivity
Smartphone connectivity using bluetooth wireless technology.
Simplified Installation
Single wiring harness for simplified installation usually requiring only 5 wires.
Documentation